Government pulled funding in June saying scheme was not value for money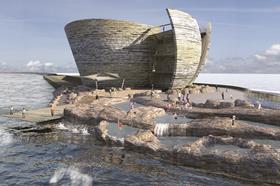 Swansea council is searching for a firm to fund, construct and operate its proposed £1.5bn tidal lagoon following the government's decision to mothball funding plans earlier this year.
Laing O'Rourke was preferred bidder for a £200m contract to deliver a 410m turbine house but plans were scuppered in June when energy secretary Greg Clarke pulled funding, saying the scheme did not offer value for money.
Now the council is looking for a partner to fully-fund the venture – but added the Welsh government may be able to offer a 'significant co-investment.'
Swansea Council and its surrounding local authorities are also looking at including public sector electricity-supply contracts with the project.
In a prior information notice posted to OJEU, the council says the project will be a "multi-asset class development with the lagoon as its centrepiece," adding that the power plant could catalyse further development of property, solar power facilities, manufacturing plants and fisheries.
The local authority said it would consider propositions by corporations or consortia interested in working in a partner development arrangement or joint venture.
The council is planning to publish a contract notice in September next year.