Contractor due to be named on £120m development this month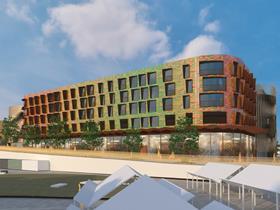 The first stage of Swansea's city centre regeneration project has received full planning permission with a main contractor set to be appointed this month for construction of features including a 3,500-capacity digital indoor arena.
The Swansea Central Phase One development will also see the introduction of a coastal parkway, digital plaza and pedestrian bridge, as well as new homes and premises for restaurants and retail.
The scheme, which will bring forward a total of more than 20,000m2 of public space, is to be delivered either side of Oystermouth Road in the south of the city.
Council leader Rob Stewart said: "The plans we have in the pipeline for phase two of Swansea Central aim to provide a mix of enhanced new retail, restaurants and leisure – once a full package of funding is secured it will represent £200m of investment."
The development manager for the project is Rivington Land, while the architect is Acme.
The digital arena will be managed by The Ambassador Theatre Group, and will be part funded, subject to approval, by the £1.3bn Swansea Bay City Deal – an investment in 11 major projects by the Welsh and UK government, as well as other public and private sector organisations.
Proposals for the arena's cladding include LEDS which would display abstract artwork and video playbacks and would be optimised for views around 100m away.