The consultant is to provide quantity surveying and technical advisory services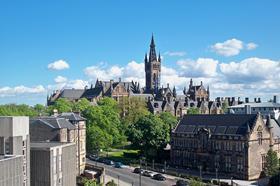 Sweett Group has bagged a brace of major jobs in Scotland with a combined project value of £1.1bn.
The consultant has been appointed as quantity surveyor on the University of Glasgow's £1bn Gilmorehill Campus expansion.
The university plans to transform its Gilmorehill campus and the adjacent Western Infirmary site over the next 10 years, which will see new buildings erected and existing buildings renovated to meet the needs of students and researchers.
William Allan, regional managing director for Scotland and Ireland at Sweett, said: "This is the University of Glasgow's single largest estates project in its history, since its move from the city centre in the 1870s, and we are delighted to play such an integral role in this significant development that will add enormous value to the local and wider community, to staff, and to students from around the globe."
Sweett has also been appointed by Fife College to provide technical advisory services on its new £90m West Fife Campus in Dunfermline.
The new 24,000 m2 campus is being funded to the tune of £70m by the Scottish government's NDP Programme with the rest of the funding being provided by the Scottish Funding Council and College resources.
Allan added that Sweett were also delighted to have been appointed by Fife College on its planned state-of-the-art campus.