Dean Webster, aged 55, steps down from consultant's board after 34 years with firm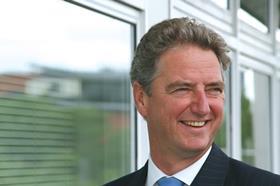 The boss of Sweett Group stepped down this week after 34 years with the consultant.
Sweett said this week that chief executive Dean Webster, aged 55, had brought forward his planned retirement date and retired from the board and as a director of the company with immediate effect.
Sweett said it had begun the search for a new chief executive, while in the interim chairman John Dodds would assume the role of executive chairman.
Dodds said: "I would like to thank Dean for his considerable contribution to Sweett Group over the last 34 years, the last nine of which as chief executive.
"He has been instrumental in growing the business into the global operation it has become and we wish him every success for the future."
Webster declined to comment on his departure when contacted by Building this week.
Sweett appointed Dodds as non-executive chairman in July, with the former Kier chief executive taking up the role following the departure of previous chairman Michael Henderson at the end of August.
Sweett posted an increase in overall revenue of 9% to £89.4m in the year to 31 March 2014, with the firm reporting unchanged operating profit of £2.3m for the year.