Firm will project manage trauma hospital in Sharjah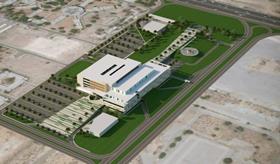 Sweett Group has been appointed to project manage the development of a trauma hospital in the United Arab Emirates.
The firm announced this morning that it had been awarded the contract for the H.H. Sheikh Khalifa Bin Zayed Al Nahyan Major Trauma Hospital in Sharjah by the Khalifa Bin Zayed Al Nahyan Foundation (KBZF).
The 175-bed hospital will include inpatient facilities including a dedicated 30 bed ICU, eight operating theatres, emergency department, rehabilitation department and a teaching centre.
Sweett Group will manage the design development process, construction, commissioning, delivery and handover with construction expected to begin on site in the second quarter of next year.
The Sharjah hospital project is Sweett Group's third major commission on behalf of KBZF, having already worked on the delivery of the Oxford Centre for Islamic Studies in the UK and H.H. Sheikh Khalifa Bin Zayed Al Nahyan Specialised Hospital in Casablanca, which is currently under construction.