Allied London has awarded Sweett the cost consultancy contract on the conversion of Granada's Manchester Studios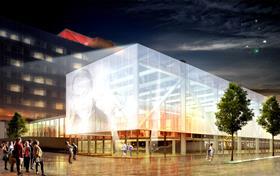 Sweett Group has been appointed to provide cost consultancy services on the conversion of Granada Studios by Allied London.
The 1950s Ralph Tubbs' designed studios are to be converted into a 200-bed hotel as part of Allied London's new city centre development, St John's in Manchester.
The refurbished hotel will acknowledge the visual of the original studios and its interior will be stripped back to expose the original architecture.
Rob Sale, senior director at Sweett, said: "The conversion of Granada Studios is a project that is particularly emotive for our team. We are extremely passionate about preserving the heritage of the oldest television studios in the UK."