Consultant to provide independent certifier services on Hallsville Quarter phase two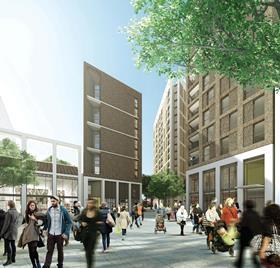 Sweett Group has won a key role on Bouygues Development's £130m Hallsville Quarter project in Canning Town, east London.
The consultant will provide independent certifier services on phase two of the Hallsville Quarter project, which forms part of the wider £3.7bn Canning Town and Custom House Regeneration Programme.
Phase two of the project is a mixed-use development, providing a new pedestrianised thoroughfare with retail and restaurant units and a new, 196-bedroom hotel, as well as residential towers delivering 349 new homes with a range of tenures.
Additional public spaces, secure car parking for around 300 cars and cycling facilities will also be included in the development.
Chris Jones, project manager at Sweett Group, said: "This is an exciting project to be working on, as it will see the creation of a new urban environment to support the diverse community in and around Canning Town."
Graham Lambert, operations director at Bouygues Development, said: "We are very pleased to have Sweett Group as independent certifier on this significant town centre regeneration project.
"Hallsville Quarter will make a momentous difference to the regeneration of Canning Town and we are delighted to play an integral role in such a substantial transformation."
In its entirety, Hallsville Quarter is envisaged to be completed over five phases, adding 1,100 new apartments to London's housing stock.