Turner & Townsend has won two major science contracts in the North-east worth a total of £88m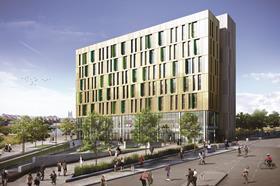 The company has been appointed project manager for the construction of both Newcastle University's new Faculty of Science, Agriculture and Engineering (SAgE) building and the new National Biologistics Manufacturing Centre in Darlington.

On the Newcastle University project, T&T will be working as project manager, quantity surveyor, CDM co-ordinator, BIM implementation manager and building regulation approved inspector.
The £50m project is part of Science Central, a joint initiative by Newcastle University and Newcastle council which will anchor a new 24-acre urban quarter in the centre of the city.
In Darlington, T&T will work as NEC project manager and supervisor for the £38m project, which is due for completion in 2015 and is part of the government's strategy to strengthen the UK's life science sector.
Associate director Jonathan Lunn and director David Gardner will lead the firm's work on the Newcastle and Darlington projects respectively.
Commenting on the appointments, T&T director Darren Laybourn said: "Both appointments are testament to our extensive experience in delivering high quality facilities in the wide ranging field of science and engineering, and the facilities required within it.

"Having delivered other significant landmark schemes in the High Tech sector including the NETPark Facility in Durham, Narec Test Facilty in Bltyh, and the recently opened manufacturing facility for Rolls-Royce in Washington, we are excited to be involved in these significant projects and the wider opportunities this will bring to the region."