Consultant will work with Infiniti subsidiary on global expansion drive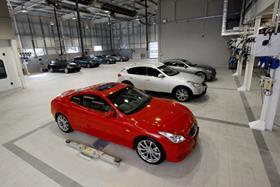 Turner & Townsend (T&T) has won a deal with Nissan's luxury car subsidiary Infiniti to roll out the brand across retail spaces and showrooms worldwide.
The consultant has been appointed on an initial three-year phase of the programme rolling out Infiniti retailing across 48 countries and six continents as part of its plan to open a significant number of retail units around the world by 2020.
T&T will provide centralised control and visibility of costs, risk and performance through a programme management office based in Hong Kong.
T&T has been working with Infiniti for ten years.
Nick Townsend, director at Turner & Townsend, said: "Organisations such as Infiniti, delivering multi-territory capital investment programmes, require robust standards and approaches, and partners with a deep understanding of their brand values. In addition to this, they need the expertise to deliver locally, and the agility to respond to shifting priorities.
"At Turner and Townsend we offer control and visibility of performance at every level. We are thrilled to offer this to Infiniti, and to be working with the team on this major expansion programme."
Sam Chung, global director of retail network development at Infiniti, added: "Brand is critical to Infiniti. We needed to select a team that could deliver with consistency across the globe. Turner & Townsend's proposition for our global PMO was delivered with passion and energy and is truly aligned with what we are aiming to achieve."