Work on Ottawa building to start next year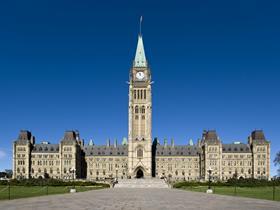 Turner & Townsend have been appointed by Canada's government to oversee the refurbishment of part of Canada's parliamentary complex in its capital Ottawa.
The £34m contract to manage the refurbishment of the Gothic Revival style Centre Block was announced by Theresa May during her visit to the country.
Building also understands that Canadian-based engineer WSP has also been appointed to the scheme.
The current six-storey parliamentary building was designed by Jean Omer Marchand and John A Pearson after a fire in 1916 destroyed all but the library.
It was completed in 1920 and houses the country's House of Commons and Senate chambers, as well as offices for MPs, senators and the senior administration of both houses.
T&T will provide strategic advisory services in cost, time and risk management on the scheme which is expected to start next year.
The firm's managing director for global business generation, Neil Bullen, said: "Canada and North America are hugely important to the global success of Turner & Townsend.
"The Centre Block is one of Canada's most recognised and iconic buildings and we're proud to provide British and international expertise to the Canadian government to make it a success".