East Thames Housing Group awards planning to housing scheme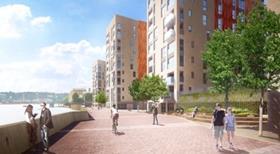 Ten firms are chasing a contract to build a 400-home estate on the Isle of Dogs in east London.
East Thames Housing Group has tendered the Jestico + Whiles-designed job to firms on its contracting framework after awarding the scheme planning approval last week.
The New Union Wharf scheme will replace the existing 1970s 189-home housing estate.
A spokesperson for East Thames Housing Group said it expected to award the contract by April. Work is planned to begin later in the year.
The framework contractors are –
Bramall Construction
Breyer Group PLC
Countryside Properties Ltd
Durkan
Higgins Construction PLC
Hill Partnerships Ltd
Mansell Construction Services Ltd
Mullaley
Wates Construction Ltd
Willmott Dixon Housing
East Thames director of development and property, Geoff Pearce said: "New Union Wharf is the first major estate where residents have chosen between full-scale regeneration or refurbishment to their homes.
"Since the residents made that decision, we've worked really closely with them to design the new homes, and I truly believe that their input has made a massive, positive difference to the quality of the scheme.
"The homes will not only provide a better quality of life for the existing residents, but will also offer a great new environment with housing opportunities for the local community."
Heinz Richardson, director of Jestico + Whiles, said: "Consultation played an important role in the development of our design.
"Our ambition is to provide the existing community with a better place to live, whilst creating a new and confident visual identity for New Union Wharf."