Material prices and wage inflation fuelling construction cost increases, according to RICS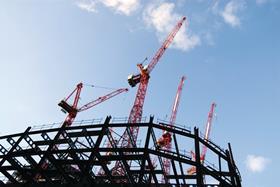 Tender prices rose by 3% in the fourth quarter 2013 compared with the previous quarter and by 6.7% compared with the previous year, according to the UK construction Tender Price Index compiled by RICS' Building Cost Information Service (BCIS).
The RICS apportioned the increase to a "knee-jerk reaction to unsustainable margins" and said it expects tender prices to continue to rise over the next six months.
Materials prices rose by 0.4% compared with the both the previous quarter and year.
Average weekly earnings (AWE) in the construction industry rose by 1.2% on the previous year, while AWE in the whole economy rose by 1.1%.
In 2013 as a whole, AWE in construction rose by 0.4% compared with a 1.0% rise in the economy as a whole.
Peter Rumble, BCIS information services manager, said: "It is anticipated that tender prices will continue to rise over the next six months, a view that is echoed by contractors who responded to the recent BCIS survey of contractors.
"Tender prices have risen by 7% over the past year, and it is now felt that short term capacity issues may keep increases higher over the next year, as contractors struggle with the increase in workload.
"As the industry begins to cope with the increase in workload over the following year, tender price rises are expected to slow a little. Tender price rises over the remainder of the forecast period will be driven by increasing demand and upward pressure from input costs."