Retail giant cuts capital expenditure again as it issues another profit warning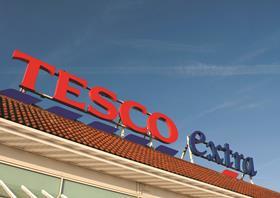 Tesco has slashed £400m from its capital spending budget as the retail giant issued another profit warning, attributed to "challenging trading conditions".
In a statement to the City this morning, the retail giant said it would cut its capital spending programme by £400m to £2.1bn in this financial year.
It said: "We are implementing further reductions in capital expenditure.
"For the current financial year capital expenditure will now be no more than £2.1bn, some £0.4bn less than originally planned and a reduction of £0.6bn from the previous financial year.
"This will be achieved in a number of areas including IT and the slower roll-out of our store refresh programme."
The announcement came as the firm said that it had cut its profit forecast for this financial year from £2.8bn to between £2.4bn and £2.5bn.
The profit warning is Tesco's second in two months.
It said "challenging trading conditions" and Tesco's "ongoing investment in our customer offer" had been the cause of the profit warning.
It said: "The business continues to face a number of uncertainties, including market conditions and the pace at which benefits from the investments we are making flow through in the second half and consequently the board has revised its outlook for the full year."
Richard Broadbent, chair of Tesco, said the decision to cut capital spending had "not been taken lightly" and was a step to "enable Tesco to retain a strong financial position and strategic optionality".
Tesco said incoming chief executive Dave Lewis, who joins the retailer from consumer goods giant Unilever on 1 September, would be "reviewing all aspects of the Group in order to improve its competitive position and deliver attractive, sustainable returns for shareholders".
The firm is due to report its interim results on 1 October.