East London site is expected to provide 1,500 new homes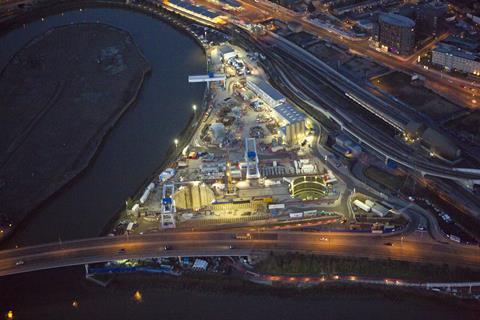 Transport for London (TfL) has launched it plans for a new neighbourhood on a 12-acre site at Limmo Peninsula in London's Docklands.
Building reported last October that the site was the big one to come forward as part of TfL's plans to build 10,000 new homes on surplus land it owns by 2021.
TfL is now seeking a development partner to transform the site into 1,500 homes, of which 600 (40%) are expected to be "genuinely affordable".
The site, which has been home to Crossrail's primary work site for the eastbound tunnel boring machines, adjoins Canning Town's underground and Docklands Light Railway station.

TfL said it had already invited companies on its Property Partnership Framework to bid for the site and expects to announce a preferred partner later this year with which it will form a joint venture partnership to develop the site.
Mayor of London Sadiq Khan, said: "The Limmo Peninsula has the capacity to be transformed into a booming new East London neighbourhood. With Elizabeth Line works almost complete, I am pleased that Transport for London is now in a position to bring forward this site for development."
The framework launched in 2016 with the appointment of 13 development partners including Balfour Beatty and Canary Wharf.
Since then, TfL has announced two new joint ventures between itself and U+I and Notting Hill Housing. The sites include a four-acre site next to Kibrooke Station in Greenwich and Landmark Court site on Southwark Street near London Bridge.
Elsewhere, TfL is directly redeveloping a site on Fenwick Road in Lambeth itself, which has the potential for 55 homes.