Extra level added to office building above new Bank station entrance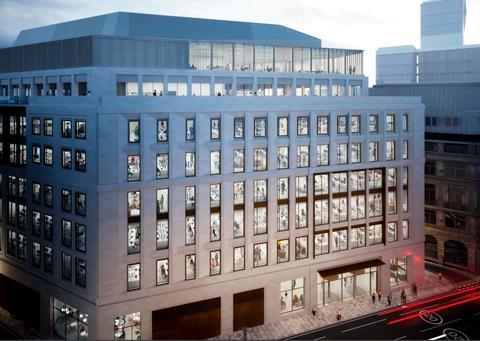 Transport for London's plans to increase the size of a Wilkinson Eyre-designed City block above the new entrance to Bank tube station have been given the green light.
The extension, designed by architect Weston Williamson & Partners, will add an additional commercial floor and roof terrace to the already consented scheme at 10 King William Street in the heart of the Square Mile.
It means the Portland stone-faced block, which is located between Bank and Monument stations, will now be eight storeys in height with a basement level and provide a total floorspace 142,000sq ft.
TfL head of property Scott Anderson said the extension will be used to generate further long-term revenue for the cash-strapped transport body, and enhance the area's biodiversity.
It comes four days after the government's decision to finally offer a long-term funding settlement to TfL, which has been surviving on a series of short-term emergency deals since getting into financial trouble after a drop in passenger numbers during the pandemic.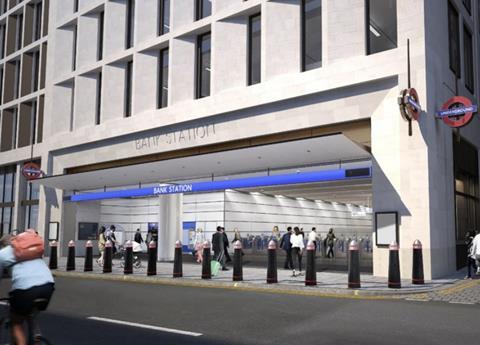 Transport secretary Grant Shapps said the settlement, which London mayor Sadiq Khan called "long overdue", includes £3.6bn for capital projects which would take place by 2024.
The approval for the extension of 10 King William Street follows the opening of the first phase of a £700m upgrade of Bank station in May, consisting of a new Wilkinson Eyre-designed Northern Line platform.
A new entrance on Cannon Street, beneath 10 William Street, is due to open later this year along with further circulation improvements at the station.
Other firms working on the roof extension include structural engineer Aecom, landscape architect Exterior Architecture, townscape consultant Savills and services and energy consultant Hoare Lea.