Margins have fallen from 1.09% 12 months ago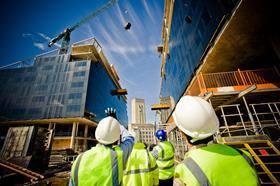 The country's 10 biggest contractors made a combined margin of less than half a percent on turnover of £31bn, according to Building's latest Top 150 contractors and housebuilders survey.
The shocking figure, which works out at a margin of just 0.38%, down from 1.09% last year for the same firms, underlines how far the country's biggest builders have to go to reach most firms' stated minimum target margin of 2%.
Leo Quinn, the chief executive of Balfour Beatty – now far and away the country's biggest contractor following the collapse of Carillion back in January – has previously said that margins of 5% are achievable by 2020 with the firm's recovering UK arm, which was recently hobbled by dozens of problem jobs, now targeting margins of 2.5%-3% in the second half of this year.
And Greg Craig, the chief executive of Skanska's UK business, which was forced to make a £32m writedown on a number of problem jobs last year, said his business was aiming for 3% operating margins by 2020.
"Is 3% attainable in the UK? Yes, it is if you're smart, picking the right projects, picking the right customers. We should be aspiring to 3%-5%."
But contractors continue to be dogged by big-ticket losses on schemes which have helped keep the combined margin of the top 10 firms to a bare minimum.
The list of woe is headed by Interserve, which posted losses of £244m as a result of problems on a series of energy-from-waste contracts, while the same sector helped send Sir Robert McAlpine to a £43m loss.
The county's biggest private builder, Laing O'Rourke, returned to the top 10 of biggest firms but a PFI hospital scheme in Canada helped send the firm nosediving to a £67m loss.But some suggest inherent weaknesses in the contracting model are still to blame for the continued problems.
For Jan Crosby, managing director at KPMG in the UK, these continued problems indicate fundamental flaws in how firms do business. "Ultimately contracting feels like hard graft for the return you get […] How can these margins be sustainable when there are such large levels of risk transfer [to contractors]?"
Overall the top 150 firms generated combined pre-tax profit of £6.8bn on record turnover of £103.5bn.
And while the average margin across all contractors featured on Building's Top 150 rises to 1.7%, the overall contrast with the country's housebuilders could not be more stark.
Despite making up less than one-third of companies in the Top 150, housebuilders accounted for 87% of the profit recorded, resulting in an average margin of nearly 14%.