HS2 joint venture partners to continue work as planned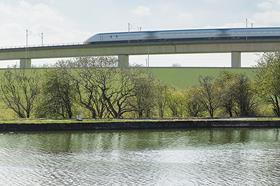 A host of Carillion transport jobs are expected to continue without delay despite the construction giant's failure.
A spokesperson for HS2 said while the news was disappointing, Carillion's JV partners have provided assurances they would cover the shortfall.
Carillion, which is part of the CEK joint venture alongside Eiffage and Kier, landed two lots on the construction of HS2 (pictured) worth £1.4bn in July.
"The CEK joint venture has provided HS2 with assurances that in the event any member of the group being unable to deliver on its responsibilities, the remaining members, now Eiffage and Kier, would fill the gap. HS2 does not hold a direct contract with Carillion.
"We are continuing to discuss with Kier and Eiffage the implementation of contingency plans. Work will continue as planned with no unnecessary or additional exposure to the taxpayer."
A spokesperson for Network Rail said it was activating its contingency plans after the announcement of Carillion's liquidation.
In November, Carillion won two new contracts on Network Rail's Midland Mainline improvement programme that would see it upgrade the existing track and infrastructure on the route from London to Corby, which is expected to be worth £62m in revenue over the next two-and-a-half years for the firm.
Last January, Carillion also won a £49m contract from Network Rail to electrify 74km of rail on the Shotts line from Holytown Junction to Midcladrer Junction. The scheme is part of a wider £160m investment from the Scottish government on the line between Edinburgh and Glasgow.
"Passengers can be reassured that their services will be running as normal today as Carillion's work for Network Rail does not involve the day-to-day running of the railway," said Network Rail.
"We will be working closely with the Administrators and Carillion's management team to ensure projects that they are working on continue and that the supply chain is maintained for this important work.
"Our aim is to ensure, as far as possible, that this news has as little impact as possible on our projects to grow and expand the railway network."
A Transport for London (TfL) spokesperson said Carillion currently held only one contract with the organisation and was not expecting the firm's liquidation to have any impact on service.
"Carillion is currently responsible for maintenance of the tracks, signalling and stations on London Overground's East London line. We have plans in place to ensure that services are maintained in any eventuality."
Highways England said it has plans in place to guarantee the completion of jobs Carillion is involved with.
The firm is involved in a number of jobs for the road authority, including a £292m joint venture with Balfour Beatty to upgrade the A14 between Swavesey and Milton.
A Highways England spokesperson said: "We have been monitoring the situation for some time and Carillion has kept us informed throughout.
"This has enabled us to develop contingency plans to ensure the continued safe delivery of any schemes that Carillion is involved in on behalf of Highways England."