Firm due to be officially signed up this autumn
Balfour Beatty looks set to be signed up to build the Midlands hospital left stranded by Carillion's collapse, with the board of the NHS trust responsible for the project told it should approve the contractor as preferred bidder later this week.
In a report prepared ahead of Thursday's meeting of the Sandwell and West Birmingham Hospitals NHS trust's board, the executive has been asked to appoint the country's largest contractor as the replacement builder.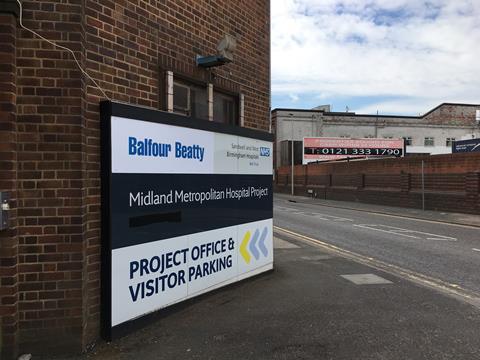 The papers said: "The board is requested to agree a preferred bidder appointment which is expected to lead to commercial close in September 2019."
"The [Balfour Beatty] bid, as it stands, is within the expected threshold."
Ahead of last month's board meeting, the trust promised it would play hardball with Balfour Beatty to ensure it got value for money as it pushed for a deal to complete the project.
It said it was prepared to hold the firm to account – even though Balfour was the sole bidder left in the running to complete the Midland Metropolitan Hospital.
While the specifics of the final business case outlining the reasons for Balfour's appointment have not been made public, the report said there were no concerns about Balfour's ability to carry out the job.
It said: "The capacity and capability of the bid team, and the underlying viability of Balfour Beatty have of course been assessed, and that matter is discussed within the private board papers. The recommendation to proceed is not made contingent on any prevailing concerns in either area."
The report also said that the board and the government had agreed the contractual model for progressing the public finance option and that it has been accepted by Balfour Beatty.