Governing body remains in discussions with club about location of last eight venue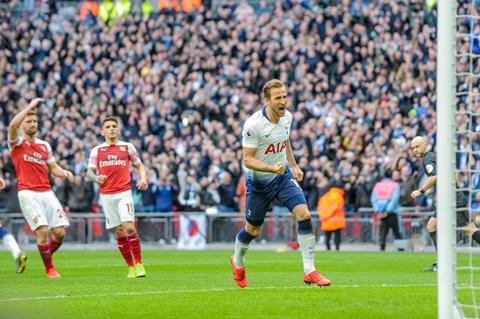 Uefa has again held out the possibility Spurs might be able to play a Champions League match at its new ground this season – provided Mace finishes it in time.
The club progressed to the last eight of the competition on Tuesday night after a 4-0 aggregate win over German side Borussia Dortmund.
Asked whether Spurs would be allowed to play its quarter final at its new ground, Uefa told Building it remains "in close contact with Tottenham Hotspur to assess the possibility of the club hosting UEFA competition matches in their new stadium this season".
Home and away quarter final ties will be played across 9/10 and 16/17 April, with Spurs finding out their opponents and the order of the ties next Friday.
In order for the stadium to be granted a safety certificate ahead of opening, two test events must be held at the new ground – although no events have yet been publicly confirmed by either the club or local council, Haringey.
Tottenham's last game at its temporary Wembley home was on Saturday against north London rivals Arsenal but it has yet to say where its remaining league and Champions League games will be played.
In an update to fans last month, the club said remedial works on the safety systems had still not finished forcing the Arsenal game to be switched to Wembley.
But it added these "are near completion and we shall then move forward to the final stages of testing the fire detection and alarm system and its integration with the other safety systems.
"The success of this testing is critical to our ability to obtain a safety certificate and open the stadium."
Mace had been due to get the ground ready in time for the visit of Liverpool way back in the middle of September last year but a month earlier the club was forced to concede it would miss that deadline.
Mace blamed faulty wiring for the delay and since then Spurs has put out a number of bulletins telling fans the stadium is still not ready.
Back in August, Mace chief executive Mark Reynolds told Building: "Issues with critical safety systems were identified. This is linked to the fire detection contractor encountering higher than usual electrical wiring faults."
More than 12,000 alarms have had to be checked and last month over 1,000 workers were still on site carrying out work.
Homeward bound – who might Spurs' first opponents at new ground now be?
Tottenham's first scheduled home match at its new ground - safety certificate and FA Cup results pending - will be a Premier League game against Crystal Palace on 3 April.
Tottenham's Champions League quarter final first leg match against Manchester City is also to be played at the new ground, along with a semi final home leg should the club prevail against the current Premier League champions.
The club was due to open the stadium against Liverpool on 15 September last year, but a series of delays meant that Tottenham has played 20 fixtures away from White Hart Lane.
It will now play its final five Premier League home matches - against Crystal Palace, Huddersfield Town, Brighton and Hove Albion and Everton - at the new ground.
Number of games originally scheduled to be played at Tottenham Stadium but moved to Wembley:
20
(three Champions League group stage fixtures, one Champions League knock-out match, two League Cup matches (played in Milton Keynes and at Wembley) and 14 Premier League home fixtures up to and including Arsenal on 2 March 2019 - this number includes Tottenham's home match against Fulham on 18 August, which was originally arranged to be played at Wembley before the start of this season)
Maximum number of games that will be played at Tottenham Stadium this season:
7
(five Premer League games and two potential Champions League knockout matches)
Tottenham's fixture list for the remainder of the 2018/19 season

| Date | Competition | Opposition | Stadium |
| --- | --- | --- | --- |
| 31 March 2019 | Premier League | Liverpool | Away |
| 3 April 2019 | Premier League | Crystal Palace | Tottenham Stadium |
| 9 April 2019 | Champions League quarter final first leg | Manchester City | Tottenham Stadium |
| 13 April 2019 | Premier League | Huddersfield Town | Tottenham Stadium |
| 17 April 2019 | Champions League quarter final second leg | Manchester City | City of Manchester Stadium |
| 20 April 2019 | Premier League | Manchester City | Away |
| 23/24 April 2019 | Premier League | Brighton and Hove Albion | Tottenham Stadium |
| 27 April 2019 | Premier League | West Ham United | Tottenham Stadium |
| 30 April/1 May 2019 | Potential Champions League semi final first leg | TBC | Home/Away |
| 4 May 2019 | Premier League | Bournemouth | Away |
| 7/8 May 2019 | Potential Champions League semi final second leg | TBC | Home/Away |
| 12 May 2019 | Premier League | Everton | Tottenham Stadium |
A home from home: games moved from Tottenham's new stadium this season

| Date | Competition | Opposition | Stadium | Score (Tottenham score first) |
| --- | --- | --- | --- | --- |
| 18 August 2018 | Premier League | Fulham | Wembley | 3-1 |
| 15 September 2018 | Premier League | Liverpool | Wembley | 1-2 |
| 26 September 2018 | League Cup | Watford | Stadium MK, Milton Keynes | 2-2 (4-2 on penalties) |
| 3 October 2018 | Champions League | Barcelona | Wembley | 2-4 |
| 06 October 2018 | Premier League | Cardiff City | Wembley | 1-0 |
| 29 October 2018 | Premier League | Manchester City | Wembley | 0-1 |
| 6 November 2018 | Champions League | PSV Eindhoven | Wembley | 2-1 |
| 24 November 2018 | Premier League | Chelsea | Wembley | 3-1 |
| 28 November 2018 | Champions League | Inter Milan | Wembley | 1-0 |
| 5 December 2018 | Premier League | Southampton | Wembley | 3-1 |
| 15 December 2018 | Premier League | Burnley | Wembley | 1-0 |
| 26 December 2018 | Premier League | Bournemouth | Wembley | 5-0 |
| 29 December 2018 | Premier League | Wolverhampton Wanderers | Wembley | 1-3 |
| 8 January 2019 | League Cup | Chelsea | Wembley | 1-0 |
| 13 January 2019 | Premier League | Manchester United | Wembley | 0-1 |
| 30 January 2019 | Premier League | Watford | Wembley | 2-1 |
| 2 February 2019 | Premier League | Newcastle United | Wembley | 1-0 |
| 10 February 2019 | Premier League | Leicester City | Wembley | 3-1 |
| 13 February 2019 | Champions League | Borussia Dortmund | Wembley | 3-0 |
| 2 March 2019 | Premier League | Arsenal | Wembley | 1-1 |