Opening game will be in first week of April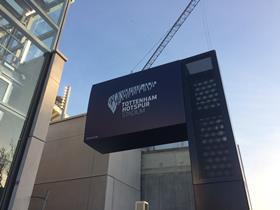 Tottenham Hotspur has said that its new stadium will finally be ready to host a competitive fixture in the first week of April.
In a statement this evening, the club said the game will be either against Brighton and Hove Albion or Crystal Palace.
The opening game depends on the progress of Brighton in the FA Cup.
If Brighton beat Millwall in the FA Cup next weekend, Crystal Palace will be the visitors on 3 April. But if the Seagulls are knocked out they will be the opposition on 6 or 7 April.
The news also means that Spurs will play its home Champions League quarter final tie at its new ground as well. The draw for this round takes place next Friday with the quarter final ties taking place on 9/10 April and 16/17 April.
Spurs said: "We have held discussions with the Premier League and Uefa. The following has been agreed with the Premier League, Brighton and Crystal Palace to ensure that our first game is a Premier League match prior to a Uefa Champions League quarter-final match.
"If Brighton win their FA Cup quarter-final match on Sunday 17th March we shall play Crystal Palace on Wednesday 3rd April and Brighton on 23rd/24th April.
"If Brighton lose their FA Cup quarter-final match on Sunday 17th March we shall play Brighton on 6th/7th April (subject to Champions League scheduling) and Crystal Palace on 23rd/24th April."
Two test events at the new stadium will feature a Spurs Under-18s match against Southampton on 24 March before a Legends match on 30 March.
The stadium will operate with a capacity of 30,000 for the under-18s match and 45,000 for the Legends match.
Mace had been due to get the ground ready in time for the visit of Liverpool way back in the middle of September last year but a month earlier the club was forced to concede it would miss that deadline.
Mace blamed faulty wiring for the delay and since then Spurs has been forced to put out a number of bulletins telling fans the stadium was still not ready.
Back in August, Mace chief executive Mark Reynolds told Building: "Issues with critical safety systems were identified. This is linked to the fire detection contractor encountering higher than usual electrical wiring faults."
More than 12,000 alarms have had to be checked.
More evidence that Spurs was preparing to open the stadium emerged earlier today after adverts appeared for new waiters and bar tenders to start at the ground this month.
Job adverts posted online show the club is looking to recruit permanent staff across a spate of positions, including kitchen porters, box waiting staff and logistics staff.
They came as Haringey council has approved parking restrictions from 16 March for fixture days.
From 8am until an hour after a game finishes, drivers will be banned from entering a handful of streets around the ground at White Hart Lane.
Tottenham's fixture list for the remainder of the 2018/19 season

| Date | Competition | Opposition | Stadium |
| --- | --- | --- | --- |
| 24 March 2019 | Premier League U18 | Southampton U18 | Tottenham Stadium (first test event) |
| 30 March 2019 | Friendly | Legends match | Tottenham Stadium (second test event) |
| 31 March 2019 | Premier League | Liverpool | Away |
| 3 April | Premier League | Crystal Palace | Tottenham Stadium (If Brighton lose in the FA Cup to Millwall, this game will move to 23/24 April) |
| 6/7 April 2019 | Premier League | Brighton and Hove Albion | Tottenham Stadium (this game will move to 23/24 April if Brighton beat Millwall and reach the FA Cup semi finals) |
| 9/10 April 2019 | Champions League quarter final first leg | TBC | Home/Away |
| 13 April 2019 | Premier League | Huddersfield Town | Tottenham Stadium |
| 16/17 April 2019 | Champions League quarter final second leg | TBC | Home/Away |
| 20 April 2019 | Premier League | Manchester City | Away |
| 27 April 2019 | Premier League | West Ham United | Tottenham Stadium |
| 30 April/1 May 2019 | Potential Champions League semi final first leg | TBC | Home/Away |
| 4 May 2019 | Premier League | Bournemouth | Away |
| 7/8 May 2019 | Potential Champions League semi final second leg | TBC | Home/Away |
| 12 May 2019 | Premier League | Everton | Tottenham Stadium |