Countries sign agreement to co-operate on developing the civil nuclear supply chain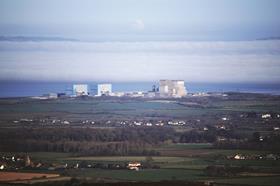 The UK and Chinese governments signed an agreement to co-operate on developing the civil nuclear supply chain as well as rail infrastructure this week.
The nuclear agreement, which covers areas such as waste treatment and decommissioning, could be worth hundreds of millions of pounds to British companies over several years, as well as generating export opportunities, the Department of Energy and Climate Change (DECC) said.
The deal, signed this week as the Chinese premier Li Keqiang visited the UK, builds on an earlier agreement, announced last October, that paved the way for Chinese investment in new nuclear power stations in the UK, including EDF's £16bn Hinkley Point project.
This week's deal goes further, outlining an intention to co-operate on wider aspects of the civil nuclear supply chain, including fuel cycle development, decommissioning of nuclear facilities and management of radioactive waste, as well as research and training.
The two countries also inked a deal to co-operate on rail infrastructure, with the agreement outlining an intention to "promote substantive cooperation between the UK-China on rail, including high-speed rail in areas including design, engineering, construction, supply operation and maintenance on projects in China and the UK."
The deal, which covers all modes of rail, including high speed, states the scope of the partnership may include:
the development of new build and upgrading rail infrastructure projects;
the supply of products and services to third markets;
collaboration on research and development within the rail sector;
station design;
equipment supply;
rail transport safety and evaluation; and
energy saving and environmental protection in rail.
Transport Secretary Patrick McLoughlin said: "I can see great mutual benefit to be gained from increased co-operation between the UK and China on rail.
"The railways are a massive success story in both countries and we can boast world class expertise across the sector."
The nuclear agreement was also linked to a joint statement between the UK and Chinese governments on climate change, with the UK and China launching a joint £20m research programme on Low Carbon Innovation, which will cover offshore renewable energy, low carbon manufacturing processes and technologies, and low carbon cities.