Football club plans expansion of Europe's biggest stadium with ISG and RLB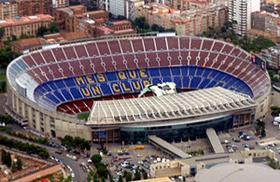 Barcelona Football Club has revealed it is working with UK firms ISG and RLB on £495m plans to revamp its Nou Camp stadium, after its board rejected the option of building a new stadium.
Under the revamp plans Europe's largest stadium would be extended further from 100,000 to 105,000 seats, the roof extended to cover all spectators and new facilities would be built into the structure including new corporate hospitality and disabled access.
Barca members, who collectively own the club, will be given a chance in April to vote on the proposal.
The work would begin in May 2017 and end in February 2021.
Barcelona said it had been working up the plans to revamp the plans with a project team that also includes US-based consultant ICON Venue Group and German entertainment giant AEG for the past year and a half.