FMB chief says initiative could have set example for other countries to follow at Glasgow climate summit
The government's failure to announce a plan for making UK homes more energy efficient was a missed opportunity to "show leadership" on the world stage at COP26, the chief executive of the Federation of Master Builders has said.
Brian Berry told Building that a national retrofit strategy could have been used at the Glasgow summit as a "fantastic template" for other countries to follow.
He said it would have been a "shining light" in a global arena where there was "quite a lot of doom and pessimism" around the reluctance of some countries, including China and India, to sign up to commitments on cutting carbon emissions.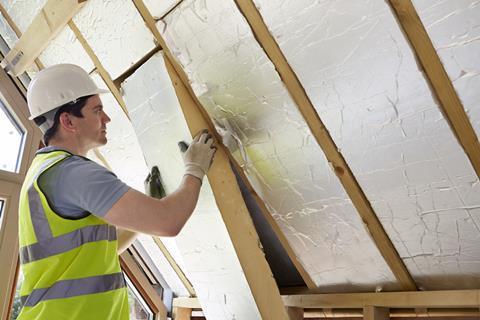 He added: "We could have shown leadership and instead what we've done is sort of hide back in the shadows."
The heat and buildings strategy, the government's plan for decarbonising the UK's 30 million buildings, was published last month.
It contained £5,000 grants for homeowners to replace their gas boilers with heat pumps, which run on electricity.
But despite the strategy insisting the government would take a 'fabric-first' approach with energy saving improvements like insulation and draught proofing installed before greener heating systems, the plan provided no details on how this would be done.
Berry said the government has been "politically nervous" about encouraging owner-occupiers to install energy efficiency improvements in their homes in case of a backlash.
But Mace chief of staff Hannah Vickers said that the government was not able to afford a national retrofit strategy, which the Construction Leadership Council has estimated would cost at least £500bn over the next two decades.
Vickers told Building: "If you take a step back and look at the constraints around the public finances coming out of covid, [the heat and buildings strategy] was probably about as ambitious as I expected the government to be."
She argued that the social housing decarbonisation fund, an £800m scheme for social landlords and housing associations to upgrade the energy efficiency of tenants' homes, could be used by the construction industry as a "pilot" to work out how the work can be scaled up on privately owned homes, which make up nearly two thirds of those in the UK.
The fund was part of a £3.9bn package in the heat and buildings strategy which also included £950m for local authorities to retrofit low-income households and £450m for heat pump grants for homeowners.
A further £338m will be used to develop low-carbon heat networks, while £1.4bn was earmarked for decarbonising public sector buildings including schools and hospitals.
But Berry said the UK has "no hope of delivering zero carbon unless we make our homes greener and more energy efficient".
Around 28 million of the UK's 30 million buildings are homes, with the residential sector accounting for around 16% of the country's carbon emissions.