GMB says Information Commissioner's Office is 'failing to cooperate' with its search for victims of construction industry blacklisting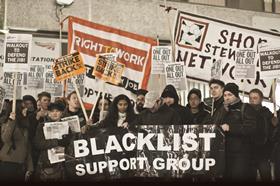 The GMB union has accused watchdog the Information Commissioner's Office (ICO) of "failing to cooperate" with its search for victims of construction industry blacklisting.
The news comes as Sir Robert McAlpine director Cullum McAlpine is set to appear before the Scottish Affairs Committee today as it continues its investigation into blacklisting.
The ICO, which had faced criticism for informing less than 200 of the 3,213 people whose names were on the blacklist file held by the Consulting Association seized in 2009, last year agreed to cooperate with the GMB and its lawyers in trying to identify those of its members on the database.
However, the GMB said this week that the ICO was no longer cooperating with its law firm, Leigh Day, which had been preparing to make a High Court claim against Carillion.
So far, 200 GMB members have been identified as being on the blacklist, but there could be 300 more, the union said.
Justin Bowden, GMB national officer, said: "People were deprived of an honest living by these illegal tactics which blighted their families' lives. They have been the victims of injustice over many years by multi-national companies which now seek to live off public sector contracts.
"By being obstructive and unhelpful the ICO continue to place obstacles in the way of GMB representing our members to get them justice and compensation. There are a further 300 GMB members who may have been on the list but we need more information to assess this."
An ICO spokesman said GMB had only raised its concerns with the ICO yesterday.
He said: "The ICO dismisses GMB's comments in their entirety…The ICO remains committed to helping those affected by the construction blacklist, working with construction trade unions to proactively reach more individuals whose information is included within the Consulting Association files.
"As an independent regulator, we will continue to focus our efforts in helping those affected by the blacklist, and would urge others to focus their attentions on doing the same."
This week, Labour tabled a motion in parliament, to be debated on Wednesday calling for a full investigation into blacklisting and demanding that the ICO write to all 3,213 individuals affected to inform them.
The blacklist came to light when the ICO seized the database, which was used by 44 companies to vet new recruits and keep out of employment trade union and health and safety activists seen as troublemakers.