Information Commissioner's Office to cross check names of those on blacklist with Department for Work and Pensions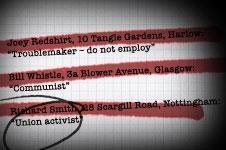 Watchdog the Information Commissioner's Office (ICO) is to extend a pilot project which aims to increase the number of people made aware they are on the construction industry blacklist discovered in 2009.
The ICO raided and closed down blacklisting firm The Consulting Association (TCA) in early 2009, seizing a blacklist database of more than 3,213 names in the process.
Since then, the ICO has come under increasing pressure to adopt a more proactive approach to notifying these individuals with less than 400 identified to date due to the ICO's policy of informing only those who approach it to check whether or not they are on the list.
Deputy information commissioner David Smith said today that the ICO is now planning to work with the Department for Work and Pensions to identify further individuals following what he called a "very constructive" meeting with business secretary Vince Cable on the issue of blacklisting last week.
Smith said: "We've assessed the results of our pilot exercise to proactively contact people, and taken the decision to extend it further."
Smith said the pilot had involved sharing details of a sample of 200 names and other identifying details with commercial service Equifax and writing to addresses where a match existed.
This resulted in the ICO writing to just 18 individuals last month with seven since asking for their files.
He added: "The very low number of addresses confirmed as likely to be up-to-date confirmed our suspicion that much of the detail in the files is out of date or incomplete.
"Nonetheless, the responses from the 18 people we did write to were positive. With that in mind, we're now committed to extending the pilot and using it to contact as many people as we can."
Smith said it would be "irresponsible and possibly unlawful" for the ICO to write to people at addresses which could be out of date.
But Justin Bowden, national officer at the GMB union, said it was disgraceful that the vast majority of those on the database still do not know they are part of it.
"The ICO is the chocolate fireguard of public regulators," he said. "They have procrastinated and stalled ever since we met them in September and suggested that they might reconsider contacting all those who were blacklisted.
"In the phone hacking scandal, reasonable efforts were made to contact victims and make them aware. Here is another group of people who have suffered a grave injustice and a state regulator which holds the information about them and has the ability to contact them and yet it doesn't do it."