Call comes after Labour MP cites examples of blacklisting practice at Crossrail in Westminster debate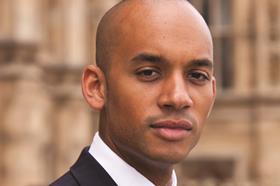 The trade union Unite has called for a public enquiry into blacklisting after a Labour MP claimed two workers on Crossrail had missed out on job opportunities due to the practice.
Chuka Ummuna (pictured), the former shadow business secretary, told a Westminster debate on blacklisting today that contractors working on Crossrail had been warned off hiring subcontractors who had taken part in a demonstration at one of the rail project's sites last year.
Speaking at a parliamentary debate on blacklisting, Umunna said he had seen emails that had allegedly passed between contractors and Crossrail's employee relations department.
Umunna said the emails detailed "questionable surveillance practices" that had taken place at the protest.
"Two of the workers concerned who were subject to that surveillance have since sought to obtain further employment on Crossrail. In each case they approached the job agency with regards to the vacancy; they had the skills to fill the vacancies.
"However as soon as they relayed their name there was a delay and then they were subsequently given an excuse as to why the positions had been filled.
"One subcontractor has actually told Unite that the consequences of him employing a Unite member would be the refusal of future work, and for obvious reasons that subcontractor does not wish to disclose their identity."
Unite said the findings proved that workers who were its members "have been blacklisted purely due to their union membership or for having raised safety issues".
The union called on the government "to act decisively to end the nefarious practice of blacklisting once and for all, by barring blacklisters from public sector contracts and holding a full public inquiry into the issue".
A spokesperson for Crossrail said: "Crossrail Limited is not aware of, and has seen no evidence of, blacklisting of any kind in connection with the Crossrail project.
"Crossrail seeks to maintain good relations with the trades unions and meets with them on a regular basis. In our recent meetings with Unite no such concerns have been raised with us.
"Indeed Unite has previously issued a joint statement with a Crossrail contractor noting that there has been no contravention of the blacklisting regulations on Crossrail."