Digs for Oxford Brookes University will cost £75m to build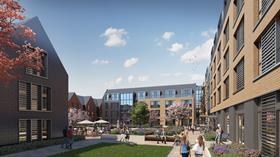 Unite Students has acquired a site in Oxford to develop accommodation housing nearly 900 beds.
The student digs for Oxford Brookes University has received planning consent and will be ready for the 2019/20 academic year, with total development costs expected to be around £75m.
The 25-year agreement with the university for the site extends its partnership with Unite to 1,350 beds.
Brendan Casey, registrar and chief operating officer at Oxford Brookes University, added: "Purpose built, managed halls of residence is a preferred option for the university as it helps meet an increasing demand for student accommodation while relieving pressure on the local housing needs."
It is the latest site to be snapped up by Unite following the acquisition of one in Leeds city centre last month to develop accommodation housing 1,000 beds. It will cost £80m to build, is located near the University of Leeds and Leeds Beckett University, and is scheduled to open for the 2020 academic year.