Housing specialist says it will withdraw from construction work for other private sector developers amid ongoing difficult conditions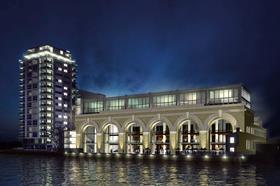 Housing specialist United House is to withdraw from private sector construction work for other developers amid ongoing difficult conditions in the construction industry and ever-tightening margins, the firm has said.
In its results for the year to 31 December 2012, the firm reported turnover of £197m, including its share of joint ventures, down 18% from £239m the previous year – a fall the firm said was largely due to the timing of the completion of particular schemes.
The contractor, developer and investor reported an operating loss of £2.5m for the year, down from an operating profit of £13.7m the previous year.
The operating loss was offset by £4.5m in operating profit through the firm's share of joint ventures and £19m in profit on the sale of the firm's PFI assets, enabling the firm to post a pre-tax profit of £21.4m, up 45% on the previous year.
The firm, which works across London and the south of England, said it had been a "difficult year", with margins "remaining under pressure" and that it was backing away from its strategy to expand its presence in the private sector market by bidding for construction work with other developers.
United House chief executive Jeffrey Adams said: "During the year, the level of margin appropriate to produce a winning bid has continued to fall to, from our perspective, unacceptable levels.
"We grew our construction activity in the private sector, although this has not been as successful as we would have liked, and we have taken the decision not to continue this type of work."
"This is primarily because there is no ability for us to work in partnership creatively and adding value, as we do for our public sector clients and for our own developments."
"We will have withdrawn from this market segment by the end of 2013."
Adams said the firm's own private sector development business remained strong, particularly in London, but this was offset by the "weaker performance" of its construction business.
He said it had a secure order book for its construction business of £380m, while the development arm was in "various stages of negotiation" for the development of around 2,700 units with a value of £865m.
The firm shed 50 staff over the period – a fall of around 13% on the previous year.