Staff also stop using leaf blowers when koalas are mating
Interserve has renewed a £2m FM contract with Edinburgh Zoo after agreeing its staff ditch their high-vis jackets – because they were upsetting the pandas.
The zoo is home to the UK's only giant pandas, including female Tian Tian, while two Asiatic lions are also among the animals put off by the presence of the reflective clothing.
Zoo keepers were initially unsure why animals were becoming distressed but they later realised it was linked to the fluorescent garments.
Tian Tian arrived in the Scottish capital nearly seven years ago along with a male panda called Yáng Guāng on a 10-year loan, as part of a £2.6bn trade deal between the UK and China.
Jeff Flanagan, managing director of commercial at Interserve said: "It's a challenging but exciting place to work. Our teams work…[to] respect the needs of its animal residents."
It is not the first time the pandas have been upset by builders with Jeremy Peat, chairman of the Royal Zoological Society of Scotland, claiming earlier this year that a plan to develop the nearby former Corstorphine hospital into flats could lead to their deaths because of the noise and vibration.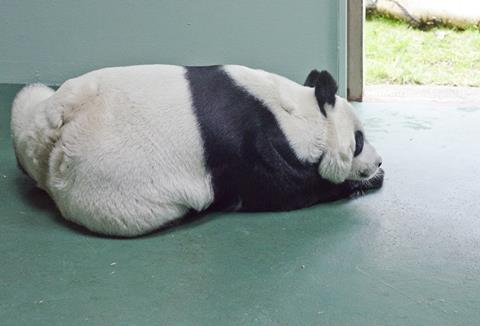 Interserve staff at the zoo, which has 600,000 visitors annually, have also been asked to keep the noise down during lions' and koalas' mating seasons. Workers don't use noisy air blowers and clear up leaves and debris with a broom instead.
The head of business operations and visitor experience at Edinburgh Zoo, Bruce Ritchie, said: "Interserve understands our work and plays a key role in keeping the zoo running, making sure it looks its best for visitors as well as providing a safe and comfortable home for our animals."
Interserve first began working at the zoo, which opened in 1913, back in 2013.