New York-based CD&R eyes merger of Balfour Beatty and Rentokil's FM divisions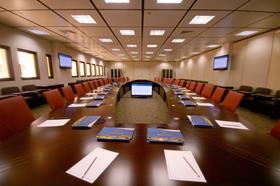 A New York-based buyout group is sizing up a potential merger of Balfour Beatty and Rentokil's facilities management divisions, according to the Financial Times.
Buyout firm Clayton Dubilier & Rice (CD&R) is holding talks on the plan with Rentokil, the report says.
The move could see Balfour Beatty and Rentokil dispose of and merge their facilities management divisions – which turn over £650m and £593m respectively.
Balfour Beatty's facilities management division, WorkPlace, won a ten-year contract to run Queen Elizabeth Olympic Park last year.
Rentokil has been growing its facilities management arm – called Initial Facilities Services – through a series of acquisitions, including a takeover last year of Modus FM.
Sources close to the talks said any potential transaction could value Workplace at £200m and Initial Financial Services at up to £400m, the Financial Times said.
In February Balfour Beatty said it was "exploring strategic options" for the future of its facilities management business, following reports the contractor has appointed Citigroup to advise on the sale of the division.