Vinci and St Modwen ratify £2bn New Covent Garden deal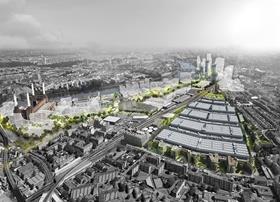 Joint venture partners Vinci and St Modwen have signed a development agreement on the £2bn regeneration of New Covent Garden Market in the Nine Elms area of central London.
The contractor and developer team have reached the formal agreement with client Covent Garden Market Authority (CGMA) to redevelop UK's largest fruit, vegetable and flower market.
The 57-acre scheme, masterplanned by Foster + Partners and Neil Tomlinson Architects, is one of the most significant developments in Nine Elms will include 550,000ft2 of new facilities to house the circa 200 businesses in the market.
CGMA also announced that Pam Alexander, a former deputy chief executive of the Housing Corporation, has been appointed as its new chair with effect from 1st February. She will succeed the current chair Baroness Brenda Dean who will step down after nearly eight years in office.
As a statutory body, CGMA's board is appointed by the government.
Alexander said: "I am very excited to be joining CGMA at such an important time for the market. The redevelopment will bring new opportunities to the businesses here, to the existing and new communities of Vauxhall and Nine Elms and to the high quality food, hospitality and tourism offer in London."