French construction group's stadium operations arm will manage stadium for 25 years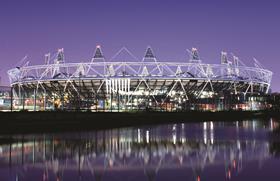 French construction group Vinci has been picked to manage and operate London's former OIympic stadium for a period of 25 years.
London Legacy Development Corporation and Newham Council today announced they have selected the group's stadium operations arm, Vinci Stadium, for the contract.
Vinci will be responsible for operating the stadium as it hosts five matches of the Rugby World Cup 2015, before fully re-opening in 2016 as the home ground of West Ham United and the national competition venue for UK Athletics.
It will later host both the World Athletics Championships and Paralympic World Athletics Championships in 2017.
Balfour Beatty is currently on site converting the stadium from an athletics venue into a multi-use venue for use by West Ham United, UK Athletics and other events operators.
Vinci Stadium currently operates several stadia in France, including the Stade de France in Paris.
Pierre Coppey, chief operating officer of Vinci, said: "[We have been] awarded the contract to run the former Olympic Stadium in recognition of Vinci's expertise and the business model it has developed for the operation of multi-purpose arenas, including the Stade de France."