Project being developed by local authority's housing company
Croydon's local housing company Brick By Brick has secured permission for a 421-home scheme in the town centre in the borough's first ever virtual planning committee meeting.
The Fairfield Homes project will see apartments built across five buildings of up to 29 storeys, sitting above office, retail and leisure space in the south London town.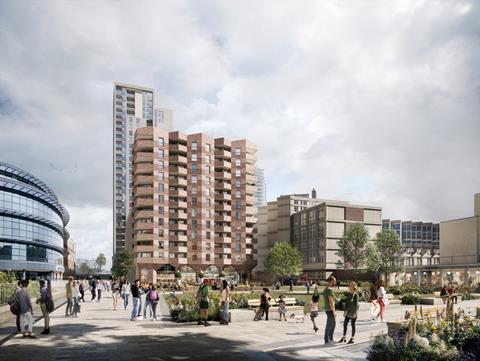 It will be built opposite Croydon's Fairfield Halls concert venue, which has recently been refurbished by Brick By Brick, with the revenue from the housing scheme ultimately destined to fund the refurb job.
Four of the buildings in the scheme have been designed by MICA Architects, with Common Ground Architecture – Brick By Brick's in-house architecture practice – designing the remaining 78-home block.
The scheme received permission at a virtual planning committee, convened following the introduction of new legislation enabling planning committees to carry on working under coronavirus lockdown restrictions.
Brick By Brick was set up by Croydon Council in 2016 to provide affordable housing in the borough and has recently completed its first homes, with 1,000 under development and an ambition to be producing 500 a year by 2021.