National Audit Office says government miscalculated likely boost on housebuilding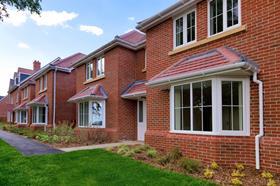 The government miscalculated the number of extra homes likely to be delivered through its £1.3bn New Homes Bonus, the spending watchdog has said.
In a report the National Audit Office (NAO) said the policy - which pays local authorities a bonus for every new home built - is likely to deliver 108,000 homes over ten years rather than the government's projection of 140,000.
The NAO said the government had overstated the likely boost on housebuilding due to an "arithmetical error".
The report also said the number of housing starts had "not increased since the bonus was introduced" and it was "too early to tell whether the bonus will increase new housing".
The NAO said there was "little evidence" the policy had made "significant changes to local authorities' behaviour towards increasing housing supply".
"We found no association between individual local authorities' planning application approval rates and their numbers of homes qualifying for the bonus," the report said.
The NAO also warned councils face losing large amounts of funding through the scheme, with the problem most acute "in areas where developers are less likely to want to build new homes".
The NAO did say it had seen some evidence the New Homes Bonus has resulted in local authorities continuing to convert empty homes back into use, but urged the government to urgently carry out a review of the policy.
Amyas Morse, head of the NAO, said: "While it is too early for the scheme to have had a discernible impact on the number of new homes, the signs are not encouraging."
Housing minister Mark Prisk said the NAO report was "unduly negative and unfair". "The new homes bonus provides a real incentive for communities to grow, to provide more affordable housing and to get empty homes back into use," he said.
Shadow housing minister Jack Dromey said: "It is clear that the policy doesn't work, is unfair and that ministers have failed to monitor whether the policy is delivering - what a shambles."