Financial Reporting Council says it won't cut corners to speed up investigation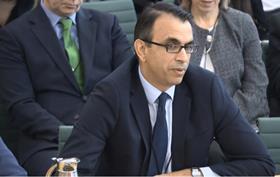 The accounting watchdog looking into Carillion's external auditor as well as former finance directors Richard Adam and Zafar Khan has said it will not cut corners simply to get to a decision.
The Financial Reporting Council announced it was looking at KPMG's auditing of Carillion's accounts between 2014 and 2017 two weeks after Carillion went bust in January. Two months later it began a probe into Adam and Khan.
In an update on the investigation published today following the Parliamentary report into Carillion's collapse, the watchdog said "good progress" was being made with the investigation and added: "The first of many detailed and recorded interviews and fact-finding meetings with those under investigation and other relevant witnesses have been conducted."
But it admitted it "takes several months to prepare, schedule and conduct a series of interviews" and added: "The speed of the FRC's investigations may also rely on the level of cooperation of those under investigation, audit clients and third parties…The FRC will not cut corners to conclude its investigations as that may compromise the integrity of any enforcement action."
Adam has already taken issue with the MPs' findings, saying he "rejects the unwarranted conclusions the committees have reached concerning my role at the company".
MPs labelled him as the "architect of Carillion's aggressive accounting policies and resolutely refused to make adequate contributions to the company's pensions schemes".
Khan (pictured), who took over from Adam at the beginning of 2017 but was sacked just over eight months later, was described as "failing to get a grip on Carillion's aggressive accounting policies or make any progress in reducing the company's debt. He took on the role of Finance Director when the company was already in deep trouble, but he should not be absolved of responsibility. He signed off the 2016 accounts that presented an extraordinarily optimistic view of the company's health, and were soon exposed as such."
Carillion collapsed owing £2bn to suppliers and racked up a £2.6bn pension liability.