Network Rail announces £800m rail capacity boost at London Waterloo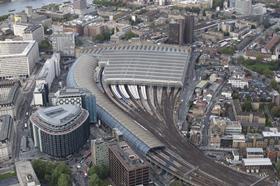 Old Eurostar platforms will be rebuilt as part of an £800m investment programme between now and 2019 at London Waterloo, Network Rail has announced.
As part of the plans, the former Waterloo International Terminal will be rebuilt, which will bring platforms 20-24 back into use with a new layout as well as new facilities, track and signalling.
Platforms 1-4 at Waterloo will also be extended for longer ten-car trains, while a new station concourse near platforms 20-24 will also be built.
Waterloo's peak time capacity will rise by 30% once the works are complete, according to Network Rail.
Commenting on the investment, Network Rail chairman Peter Hendy said: "This is the biggest package of improvements for passengers travelling to and from Waterloo for decades.
"And let's face it, this is not before time. Since 1996, the numbers of passengers on routes into Waterloo have more than doubled - rising from 108 million passenger journeys a year to over 230 million. And this increase is showing no sign of slowing down."
He added that the plans are "a long way from being the complete answer to the peak time congestion on this packed commuter route, but they will make a big difference."