Paul Drechsler says consultants and clients need to change if Construction 2025 aims are to be realised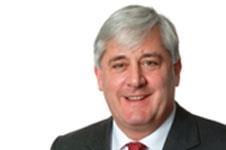 Wates chief executive Paul Drechsler has accused consultants and clients of being a barrier to achieving the aims of the Construction 2025 strategy.
Speaking at the Chartered Institute of Building's Talk Construction conference today, he said too much emphasis had been placed on contractors to achieve the aims of the industrial strategy, which include cutting the cost and time of construction projects.
He said there were four priorities for action to achieve the strategy's aims: collaboration; culture and operational change; commitment to people and skills and a focus on the customer innovation.
He said "It's the same issues we've talked about for fifty years.
"I think the big shift that is required is from an emphasis that these are priorities primarily for the contracting community - they are not. In my view, the most significant need for change is in the client and advisory community."
When asked by Building what consultants were doing wrong, he said recommending single stage design and build contracts was one example of the bad advice they were giving to clients. "It's an insane way of doing business," he said "It's guaranteed to fail, it's guaranteed to generate dissatisfaction and is one of the dumbest approaches to construction I have ever come across."
In his speech, Drechsler said that traditional approaches to contracting would not deliver the 33% reduction in cost and 50% reduction in project length that the strategy was aiming for.
He added: "The latter is the scourge of the industry, so many projects in recent times have undergone unprecedented delays between inception, announcement and construction start. Meanwhile, contractors have professional people sitting on the bench eating into already meagre margins."
He said the industry was clearly not healthy with contractors reporting margins of between one and two per cent.
He added: "How can we possibly expect excellent performance innovation and investment and skills from an industry that is driven to and responds to 1-2% net margin… With margins at 1-2% it's obvious that many projects fail to perform from unsustainable tender prices, frequently resulting in over expenditure."
Drechsler told Building that margins would be at least 4% if the value of construction professionals was properly reflected.