Firm says optimism being fuelled by government's commitment to construction
Wates has become the latest contractor to say this year's profit will be approaching 2019 levels after the firm's bottom line was ravaged by the pandemic last year.
Listed peers Morgan Sindall and Balfour Beatty have both recently said they expect their results this year to mirror those of 2019 and now privately-owned Wates, which has released its 2020 results today, said it was expecting a similar return.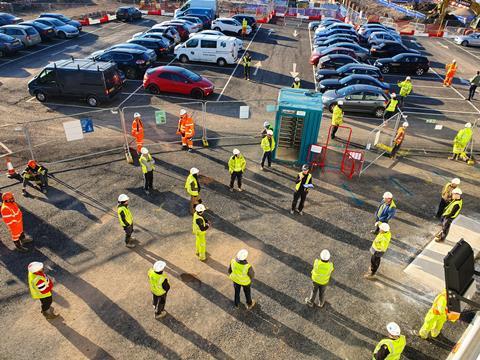 The firm was forced to shell out more than £19m on covid and restructuring costs last year – although it received £7.7m from the government's Coronavirus Job Retention Scheme after furloughing 1,400 staff – around 40% of its employees – at the height of the pandemic's first wave last spring.
Despite this, the firm was still left nursing an exceptional items bill of £11.4m with more than half of that, £6.7m, being allocated towards a redundancy programme which saw 268 jobs axed.
But chief executive David Allen said the firm and the industry as a whole had now turned a corner from 12 months ago although he admitted the beginning of this year – when the UK's deaths and infection rates from coronavirus surpassed the first wave peak – put "everyone back in the eye of the storm".
Allen said this year's profit would be north of £30m and close to the £36.2m it posted in 2019 – the sixth year of consecutive growth. That came to an end last year as pre-tax profit slumped to just £1.7m on turnover down 11% to £1.4bn.
But Allen said the firm had been buoyed by a record order book of £6.6bn, up 13.5% from 2019's figure, and the government's commitment to construction which is one of the industries Whitehall has said will lead the country's economic recovery.
"We feel much more confident and calmer now than 12 months ago," he added. "We're very excited about the rest of 2021. We think we're going to bounce back.
"The government has created a context for success and the collaboration the industry has shown in the past year has been fantastic."
The firm said it effectively closed its business down for two days at the end of last March as it worked out how to tackle the pandemic.
"It was such an unknown situation, it gave us time to plan," Allen added. "I always said it was very important not to over-react or under-react."
Allen said it would not be paying back the furlough money it received but added it was not paying a dividend or bonuses this year and had handed the chancellor £107m in tax receipts for the last year. "Government support was invaluable and we used it [the furlough money] for exactly the right purpose."
Allen said Wates had abandoned the £2bn turnover target introduced by his predecessor Andrew Davies who is now chief executive of Kier after initially leaving in 2017 for the top role at Carillion.
"Turnover is not the most important thing. The £2bn figure was shorthand for taking on big, complex projects which we still do and still can do."
The firm said net cash at the year-end was £161.6m, up by close to £51m on 2019's number.