New chief will replace predecessor Andrew Davies who left to join Carillion last autumn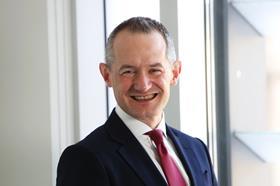 Wates chairman James Wates has said a replacement for former chief executive Andrew Davies will be in place by the end of next month.
Davies left the business last October after being headhunted to take up the position as Carillion's new chief executive. He was replaced on an interim basis by the firm's chief financial officer David Allen.
Davies, who was at Wates for nearly four years, had been due to start at Carillion on 2 April but this was brought forward to 22 January after Wates called Carillion chairman Philip Green with an offer to release Davies from his gardening leave 10 weeks early.
Wates said: "We took a view that the sooner Andrew got in there, it had a better chance of survival. They were grateful but sadly it didn't come to pass."
He added: "I'd be disappointed if I was in his [Davies'] shoes but you move on. He was a talented guy who did a great job for us."
Carillion went bust a week before Davies had been due to start and Wates added: "I think it was a tragedy. My biggest concern was for the 20,000 Carillion employees in the UK and the supply chain."
Wates became the latest industry big-hitter to admit he was surprised by Carillion's collapse and added: "I expected them to find a way through the troubles. I've been in the industry 35 years and Carillion is the biggest collapse, undoubtedly. I think construction is a great industry but every now again, things go wrong."
The firm has hired 15 former Carillion staff after interviewing 174 and is also eyeing some of its services and maintenance contracts, such as schools and defence work, when they get retendered by the government.
Wates, who steps down as chairman of the CITB at the end of next month after eight years and 16 years in total on the training group's board, said the firm was continuing its process to replace Davies and added: "We are searching for the best possible candidate. All names are under consideration."
But he admitted Allen (pictured) would be a tough man to beat. "David is doing an excellent job and I couldn't have asked for more. The team didn't miss a beat when Andrew Davies left."
Allen yesterday said that he expects Wates to hit its £2bn turnover target by the end of 2020 and admitted the number carried a symbolic value. "It's shorthand for aspiration and for continued growth." But he added: "It will be controlled and done in the right way."
The firm said turnover last year went up 6% to £1.6bn on pre-tax profit which stayed flat at £35.7m.