Raft of new appointments come after firm cut 300 jobs in wake of covid-19 crisis
Wates is overhauling its business to focus more on its core public sector and housing work as the firm rejigs in the wake of the covid-19 pandemic.
In May, the contractor became the first major name to announce a redundancy programme with the £1.6bn turnover company saying it was cutting 300 jobs, around 8% of its staff.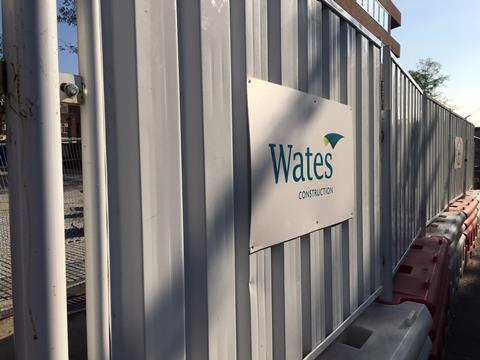 Wates is understood to be looking at growing its business in several sectors including affordable housing, offsite technology, public sector work and partnerships work with local authorities.
The firm's staff were told about the shake-up this morning which will see group strategy director Steve Beechey become public sector director, overseeing 70% of Wates' workload – around £1.1bn of turnover.
Wates' Smartspace business, which carries out fit-out work for a number of high-profile retailers who have recently announced major redundancies because of the pandemic including John Lewis and Marks and Spencer, who between them are cutting nearly 2,500 jobs, will no longer be run as a separate business and is being brought into the firm's property services arm run by David Morgan.
Helen Bunch, who previously headed up Smartspace, will now run the residential business.
It is understood that previous residential boss Paul Nicholls is leaving the firm, having joined the business in 2015 from United House where he spent 13 years. "That is a big shock," one source said. "He is very well respected. Wates had been trying to get him for years."
Its developments arm will continue to be run by David Brocklebank while Paul Chandler remains in charge of its construction business.
Chandler will also have overall charge of an enlarged construction services business which will group together its M&E business SES Engineering, building services and its offsite business Prism under one roof. Rob Clifford has been appointed managing director, reporting into Chandler.
Last month, Wates announced that SES boss Jason Knights was leaving after 10 years to join a private equity backed FM firm which specialises in grounds maintenance.
Knights has now left and has been replaced by internal appointment Steve Joyce, previously the firm's business director for the North and Scotland.
Wates is also setting up a partnerships business aimed at residential developments for local authorities and housing associations in need of housing for the elderly and key workers. Helen Rieman from United Living has been hired to be director of the partnerships arm, reporting into Brocklebank.
The aim is to focus on 'turnkey opportunities' with Wates acting as the developer, offering clients a range of options from buying the development to lease-back arrangements.
Wates is also setting up a development agency service which will be able to offer public sector clients property marketing and selling services on a fee basis.