Two firms have corrected the mistake after being contacted by Building
Three UK-based websites are still selling the combustible insulation used in the flawed Grenfell Tower refurbishment with out-of-date brochures and data sheets to support the product, a Building investigation can reveal. Two other sites have now corrected the error.
Just Insulation, Loft and Insulation and Roofing Outlet are still advertising Kingspan's K15 product with inaccurate fire ratings, despite being contacted by Building.
All five websites were describing K15 as achieving a Class 0 fire rating either in product descriptions or links to datasheets. This rating means that the risk of the material contributing to the spread of a fire was considered low but has since been dismissed as unreliable.
A spokesperson for Insulation Superstore said its website was reviewing its processes after being alerted by Building to its use of a decade-old datasheet for K15 which states that it is "acceptable for use above 18m".
The spokesperson said: "We have been made aware of an outdated datasheet, which had remained on our website in error. We took swift and immediate action, and this has now been rectified.
"We make every effort to ensure the information we provide on behalf of our suppliers is correct and we are reviewing our processes so that this oversight is not repeated."
A spokesperson for Building Materials said: "It's an administrative error. The item has been taken off line and will be corrected.
"We, as Kingspan do, take the situation very seriously and certainly have not been advertising the product with devious intentions."
Building Materials managing director Phillip Lidgerton said he unreseredly apologised for the error in a comment on the website's product page for K15.
Lidgerton added: "It has been brought to my attention that the product information on our website, between 1 January 2020 and 25 February 2021 (15 months) Kingspan K15 was inaccurate. After an investigation it appears that an update, which took place at some point last year, didn't work and left incorrect information displayed.
"In that period we supplied 16 packs to two customers. Both customers have been contacted and advised of the discrepancy."

He added: "At Building Materials Nationwide Ltd we take very seriously our duty to provide accurate information on the products and services we offer. Unfortunately on this occasion we have fallen below the standard we have set ourselves and for this I unreservedly apologise."
K15, a combustible phenolic foam product, was one of two insulation products used on the flawed refurbishment of Grenfell Tower, which contributed to the spread of the fire in June 2017 that killed 72 people.
Up-to-date brochures for K15 state that the fire rating of the product is in fact Euroclass C-s2 d0. For an insulation product to achieve a Class 0 rating, it must be rated at least Euroclass B or above.
The Class 0 rating is itself outdated and has not been included in the government's fire regulations since 2019. All materials included in a cladding system for buildings above 18m must now be Euroclass A, the rating for non-combustible.
While Just Insulation includes a link to an up-to-date brochure from November last year, which states the rating as Euroclass C-s2 d0, a link to a datasheet for the product on Loft and Insulation appears to be broken.
An email sent by Building to Loft and Insulation asking for a copy of the datasheet has not been answered.
Roofing Outlet provides no fire rating for K15 in its description of the product, and the datasheet provided links customers to a Kingspan brochure dated to October 2017 which also states that the product achieves a Class 0 rating.
Before being corrected, the K15 brochure provided by Insulation Superstore was dated to March 2011 and also gave K15 a Class 0 rating. The brochure claimed that the fire performance of K15 could be considered a "low risk" in Scotland, despite Kingspan changing its description of K15's fire rating to "medium risk" in 2017 to reflect up to date guidance north of the border.
Building Materials had described K15 as achieving a class 0 fire rating in its description for the product and linked customers to an out of date product brochure from September 2019 which gave K15 a Euroclass C-s1 d0 rating.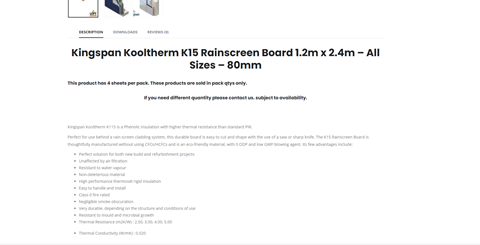 In response to Building's investigation, a Ministry of Housing, Communities and Local Government spokesperson said: "We would expect manufacturers to ensure their products are being correctly marketed and if anyone has concerns about how products are advertised, they should contact Trading Standards."
The spokesperson added: "Construction professionals and buildings control bodies should take care with the specification of any product to ensure it is safe, fit for purpose and complies with building regulations."
The Grenfell Inquiry has already heard that Kingspan was able to claim that K15 achieved Class 0 because of a loophole in Approved Document B of the building regulations in England and Wales which stated that this rating could be met if the surface of a composite product achieved Class 0 under testing.
Using this interpretation, Kingspan was able to market K15 as Class 0 despite only the foil facer of the product meeting the rating.
Tests of the whole K15 product, not just the foil facer, carried out by Kingspan prior to the Grenfell Tower fire failed to achieve Class 0, and the latest brochures for the product no longer describe K15 as achieving Class 0.
In October last year, Kingspan withdrew a 2005 British Research Establishment test report of K15 after admitting that the product it had been selling on the market for nearly 15 years was different to what had been tested.
When this newer version of K15 was tested in 2007, it turned the test rig into a "raging inferno" and had to be extinguished by the Building Research Establishment out of fears that it would endanger the testing laboratory, according to evidence heard at thg Grenfell Inquiry.
K15 was never specified for the refurbishment of Grenfell Tower but was found to be included in the cladding system after the fire.
The first phase of the inquiry concluded that the insulation products included in the cladding added as part of its refurbishment "more likely than not" contributed to the rapid spread of flames up the side of the tower.
There is no suggestion that Kingspan's current practices or products are contrary to law or in any way breach building regulations.
Update on 8 April 2021: All five websites have now corrected the mistake.
Just Insulation director Darroch Moon said that the website's description of K15 having a Class 0 rating was a "mistake on my part".