Planning application reveals that 8,000 homes will be built on the site of the 2012 Olympics with the first new homes opening in 2013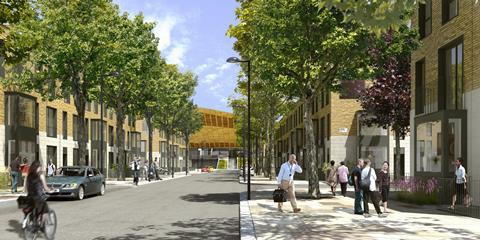 The Olympic Park Legacy Company has submitted its first plans for the next stage of the Queen Elizabeth Olympic Park.
The Legacy Communities scheme (LCS), the framework which will guide the long-term development of the park after the Games, covers 64 hectares.
Five new communities will be built there over 20 years. They will open in phases from 2013, and the first residents will move in in 2015. The new neighbourhoods will be called Chobham Manor, East Wick, Sweetwater, Marshgate Wharf and Pudding Mill.
The park will provide room for 8,000 homes, 6,800 of them in the LCS, while the Olympic Village will house a further 2,800 units.
Around 40% of the houses will be family homes, and up to 35% will be affordable housing in line with the London Plan.
East London communities will benefit from amenities within the park, as new schools, nurseries, community spaces and health centres are being positioned so they are accessible by those living around as well as within the space.
The schools being built comprise two primaries and a secondary school, and will serve the local area alongside Chobham Academy which is situated next to the Olympic Village and will open in September 2013.
There will be nine nurseries, three health centres and 12 multi-purpose community spaces which could be community centres, libraries or gyms.
The LCS also provides for 130,000 sq m of employment space, which could provide an estimated 4,400 jobs in 2031. Other venues and developments within the park could see that number rise to 8,000 jobs, with around 2,000 construction jobs anticipated.
Planning applications for the rest of the park, including the areas around the venues and north and south parkland, will follow at later dates.
These five neighbourhoods will stitch together the surrounding communities of a formerly isolated area through new homes, schools, shops, parks, infrastructure and jobs.
The Planning Decisions Team at the Olympic Delivery Authority will undertake a statutory consultation on the current application between 5 October and 14 November. The application is expected to be determined by summer 2012.
Andrew Altman, chief executive of the Olympic Park Legacy Company, said:"This planning application represents a significant moment in making the Queen Elizabeth Olympic Park a reality. This time last year we outlined our vision for the Park, today we are mobilising to make it happen.
"As one of the most important housing developments in London's history, these five neighbourhoods will stitch together the surrounding communities of a formerly isolated area through new homes, schools, shops, parks, infrastructure and jobs."
The Mayor of London, Boris Johnson, said: "This is an important step towards turning the vision for the development of Queen Elizabeth Olympic Park into a reality that will revolutionise the face of East London and deliver a lasting legacy for the capital. Creating a fantastic new community in which thousands of people can live and work, it will be the most important regeneration project that the city has seen in 25 years."