Reactor developer buys 60% stake in NuGen project in Cumbria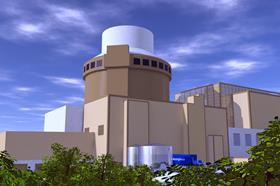 Nuclear reactor developer Westinghouse will build three reactors in the UK after it agreed to buy a 60% stake in the NuGen nuclear project in Cumbria for £102m.
It said a "large portion" of the work on the project would be "accessible" to the UK supply chain.
The NuGen project had been a joint venture been Spain's Iberdrola and French firm GDF Suez, but Westinghouse's parent company Toshiba has now bought out Iberdrola and Westinghouse will proceed with just GDF Suez as its partner.
The majority stake Westinghouse has taken is bigger than expected after the Financial Times reported the firm would take a 50% stake in the project last December.
Westinghouse will build its AP1000 nuclear reactors at the site, the design of which is already part way through the regulatory approval process, after the firm did much of the work when it was courting nuclear site developer Horizon to build its reactors in Wylfa before the project was sold to Hitachi in 2012.
The reactors at the Cumbria site will have a generating capacity of 3.4GW and the first unit is expected to be operational by 2024.
Danny Roderick, president and chief executive of Westinghouse, said: "This is another example of the strong commitment of Toshiba and Westinghouse to serve the global nuclear energy industry and enable countries and regions of the world to achieve their carbon-reduction goals.
"We look forward to a long and mutually beneficial relationship with the owners of NuGen, as well as nuclear suppliers in Cumbria and throughout the United Kingdom."