Firm details site operating procedures to meet government protocols
Weston Homes has said it is reopening sites on the back of being encouraged to do so by Boris Johnson in last night's address to the nation.
The privately-owned housebuilder has 7,000 units on site or in planning across its London and Home Counties heartland.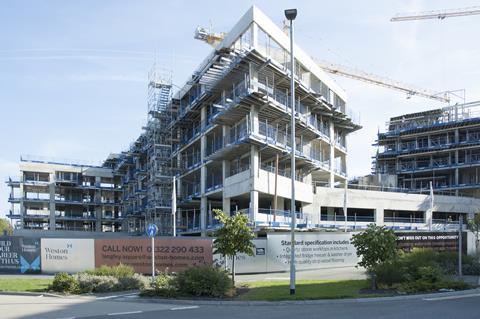 The firm said: "Following lockdown easing and return to work guidance from the UK government, Weston Homes has confirmed that [today] the company is reopening its construction sites."
It said it is creating one-way pedestrian traffic routes through sites, walkways and buildings where possible with signposted routes and temporary external stairways.
Upon arriving and leaving site, construction staff, delivery drivers and construction site visitors will be required to wash their hands with soap and water and on all sites the firm has created special bespoke wash stations for site staff comprised of sinks with their own independent water supply and sanitiser suppler.
All sites will have a rota of enhanced cleaning regimes with all touch points regularly sanitised such as doors, buttons, handles, vehicle cabs, construction tools and equipment, with a system of workers washing hands before and after using all equipment.
For internal fit out work, individual apartments and houses will be limited to two people at any one time, with operatives working in isolation in one selected room. There will also be staggered start, finish and break times with site staff bringing their own food into work and eating in isolation at their allocated work station rather than the traditional canteen-based system.
Weston chairman Bob Weston said: "We have reviewed every aspect of our site activities and implemented strict procedures in order to fully comply with the restrictions imposed by social distancing and health safeguarding requirements. We are confident that we have a robust and comprehensive set of guidelines which mean that we can operate our construction sites safely and comply with strict social distancing requirements."