Contractor says money set aside in event it needs to carry out repair work
Willmott Dixon said a provision of more than £6m to carry out possible repair work on cladding following the Grenfell Tower fire three years ago dragged profit down by 18% last year.
In accounts filed at Companies House, the firm said pre-tax profit slumped from £35.5m to £29.2m on turnover down 6% to £1.2bn.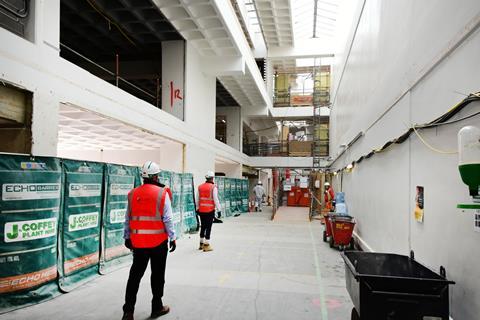 The firm said it had made a provision of £6.2m "for potential cladding related issues on completed contracts".
It added: "Whilst we hope that some or all of this provision may not be required, our preference is for prudence at this stage. Had it not been for this new provision, underlying profit before tax was £37.5m."
Turnover at its biggest business, construction, which is working on a £60m job to build a new club facility for the All England Tennis Club at Wimbledon, fell £100m to £1.1bn, but its interiors arm saw income up 19% to £149m helped by work at London South Bank University and the Civic Hall music and arts venue in Wolverhampton.
The firm, which also revealed it has won two contracts to build residential buildings at the 2022 Commonwealth Games village for Lendlease and Birmingham City Council, said its cash in hand and at the bank had improved £2.6m to £93.1m at the year end, adding that its strengthened financial position was "essential against the backcloth of covid-19 uncertainty".
Along with other major contractors, Willmott Dixon has furloughed hundreds of staff – in April it said 400 had volunteered to be furloughed joining a similar number who had already been put on the government's job retention scheme – and in the accounts, chief executive Rick Willmott said it had to "consider every measure to preserve the long-term prospects for jobs and for the company".
In separate comments, Willmott warned that reduced output levels on sites, caused by social distancing measures and getting hold of materials, would hit deadlines and budgets
He added: "I think we need to be realistic that output reductions linked to social distancing measures, coupled with a possible lag in the supply of some materials from overseas, will inevitably have a continued impact on project prices and programme timings in the short to medium term."
In his chief executive's report, Willmott also flagged concerns about the increasing unwillingness of banks to lend money to the sector. "Banks have never had less appetite to provide capital to the industry in general."
He added that a number of regional contractors had not heeded warnings about the challenges facing construction. "They have failed to adapt to market change, not responded to evident headwinds and as a result no longer exist."
The firm's forward order book stands at more than £1bn although Willmott admitted some jobs will be delayed or postponed because of covid-19.