Pre-designed schools business Sunesis targets four-fold rise in turnover to £100m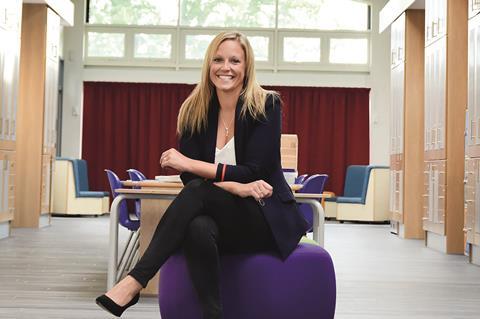 Willmott Dixon has recruited a new operations director from a local authority to head up Senesis, its pre-designed schools joint venture jointly owned with Scape Group.
Fran Cox (pictured) was previously head of school infrastructure and partnerships at Bedford borough council and in her newly created role has been tasked with growing turnover at Sunesis from £25m to £100m in three years' time.
The business builds pre-designed schools using off-site manufacturing methods and says it aims to provide certainty of cost, time and quality.
It is targeting rising demand in the schools sector, with the Department for Education forecasting last year that an extra 750,000 school places would be needed by 2025.
Cox said: "Having experienced Sunesis schools as a client, I know they have already been valuable to councils in meeting their chronic need for new school places. Sunesis offers clear timescales for delivery, flexibility where it's needed, and certainty of cost, providing an attractive solution for local authorities."
Sunesis offers three pre-designed primary school concepts, the Keynes, Paxton and Dewey, with flexibility according to form entry size and customer requirements. Prices are fixed between £2.8m and £5.5m, with fast-track build programmes of as little as nine months.
It has completed 28 primary schools since its first school was commissioned in 2011, plus 40 school extensions, creating more than 18,000 new places in total. It aims to deliver more than 7,500 school places by 2020.
Local authority clients include Somerset, Isle of Wight, Warwickshire, Lincolnshire, Plymouth, Doncaster, Croydon and North Somerset.
Last year, Willmott Dixon began offering modular police cells, based on the same "off the shelf" concept as Sunesis schools.
Tim Carey, Willmott Dixon's national product director, said: "Fran's arrival is an important next stage of our growth as an established provider of new schools. Her experience at Bedford will give us the quantum leap to roll out Sunesis to even more customers."
Mark Robinson, Scape's chief executive, said: "Fran's experience in commissioning new schools provides a real depth of insight into the needs of local authorities and the issues they face.
"The country has a very significant school building challenge ahead, with over 2,000 new schools needed in the next few years, and Fran will help Sunesis to play a vital role in filling the gap in school places nationally."
The firm is also planning to launch a secondary school product.
In July, Willmott Dixon announced that 2016 pre-tax profit had more than doubled to £28m, with the firm saying that an improved performance at its contracting business and drawing a line under a number of legacy housing schemes had helped with the hike.