Fire caused by explosion in nearby railway arches
A team featuring Keltbray and Multiplex was forced to evacuate the site tearing down the Elephant & Castle shopping centre this afternoon after an explosion under nearby railway arches caused a huge fire.
Plumes of thick black smoke were seen billowing from the arches near Elephant and Castle train station, prompting a warning to the public nearby to close all doors and windows.
A site source said: "All operatives came off the site and are safe. Access is restricted so all work has been stopped."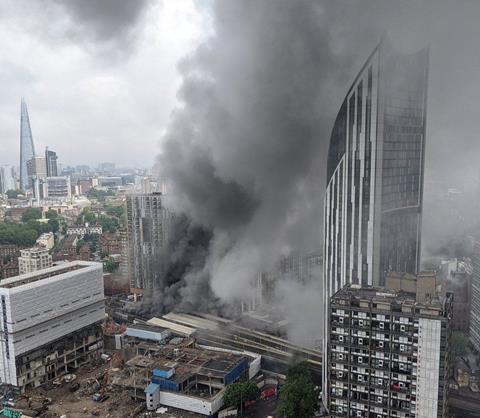 Keltbray has been on the job since last autumn carrying out demolition work for developer Delancey ahead of main contractor Multiplex moving onto the scheme later this year.
Phase 2 of the redevelopment, which involves building a new town centre and upgrading the tube station, is scheduled to open in 2025. The first phase which includes more than 300 new homes called Elephant Central and retail has already been completed.
In a statement, a spokesperson for Elephant and Castle Town Centre said: "We are aware of the serious incident at Elephant and Castle this afternoon, which we understand originated in a railway arch unit adjacent to, but not forming part of, our development site.
Three commercial units underneath the railway arches are completely alight and four cars and a telephone box are also alight near #ElephantandCastle Railway Station. Road closures are in place and people are advised to avoid the area and keep windows and doors closed pic.twitter.com/yALJKnVd8d

— London Fire Brigade (@LondonFire) June 28, 2021
"As a precaution all of the residents in our Elephant Central building, Castle Square retailers and operatives on the development site have been evacuated and we will continue to support the emergency services and other first responders wherever possible."
At the height of the blaze, at least 100 firefighters were at the scene and 15 fire engines were dispatched. London Fire Brigade said three commercial units, four cars and a telephone box were "completely alight" at one stage.
The fire was brought under control later this afternoon, the brigade said, adding that it would be on site into the evening damping the area down.
Southwark police said the incident was not believed to be terror-related.