Trade union leaders condemn offer and say it would mean workers' pay falls in real terms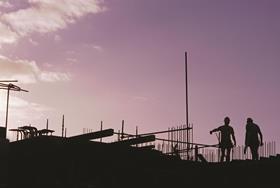 Trade unions have rejected a proposed pay rise for more than 500,000 construction workers next year, calling it "derisory".
Leaders from GMB, Unite and Ucatt met for pay talks last week with construction employers covered by the Construction Industry Joint Council (CIJC) agreement, the largest such agreement in the industry. Gerry Lean, employers' secretary at the CIJC, told Building the unions had been offered a 1% rise from January 2014 followed by a further 1% from September and 2.5% in 2015.
Following the meeting, the unions accused the employers of treating workers with "disrespect and derision" and condemned the offer which they said would mean workers' pay continued to fall in real terms.
Steve Murphy, general secretary of Ucatt, said: "Workers are angry and will no longer accept poverty pay. The employers must make a realistic offer when talks resume."
Phil Whitehurst, the GMB's national officer for construction, said: "The offer put on the table by the employers shows utter contempt for their employees."
Lean said he expected employers to improve the offer at the next round of talks but warned this would be by "modest amounts".
"The days of 10% increases are gone," he said. "Our view is the recovery [in the industry] is patchy."