Tender forecast expects 'substantial drop' in new projects over next 18 months
A return to cut-throat bidding and a cash flows drying up are some of the issues facing the industry in the coming months, a new report by Mace's consulting arm has warned.
The firm, which yesterday announced it was having to make 300 staff redundant, around 5% of its workforce, said tender prices could fall by as much as 2.5% next year.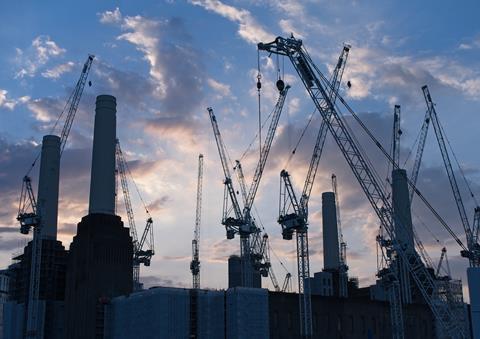 In its Q2 tender cost update, the firm said as work becomes harder to find in the wake of the covid-19 crisis contractors will be forced to drop prices to win jobs. "It should come as no surprise if, compared to pre-coronavirus levels, there is a substantial drop in new projects over the next 18 months," it said.
It added: "Our central position is that finding new work next year will be tough. Firms' main focus is likely to be on winning work to maintain a pipeline with costs only a secondary consideration.
"A prolonged contraction in industry demand would intensify competitive pressure and exert downwards pressure in pricing."
It said that with social distancing restrictions being imposed on site, output is "at best" expected to be 20% lower than pre-covid levels.
And it warned: "Contractors with exposure to associated commercial risks, face a cashflow time bomb as project programmes inevitably extend, exacerbating their already weakened financial position."
It said sites extending working hours, which they were encouraged to do so by the government last month in order to get jobs back up and running, could mean workers on jobs for fewer hours or having to work at inconvenient times., "All of these factors have the potential to push costs up, lengthen programmes and reduce revenue."
The Mace report also said they were concerns over how quickly house building would return. "A decline here will hit the industry hard," it admitted. "For the commercial sector, which accounts for around a quarter of all new work, the outlook also appears concerning."
Steven Mason, managing director for cost consultancy at Mace, said: "The usual inflationary or deflationary pressures of construction input prices that have such major influence on market forecasts have, at least in the short term, been heavily disrupted due to material and labour shortages, prices spikes and significant uncertainty in output and productivity levels. We expect this uncertainty to continue until the final quarter of 2020."
Other concerns were getting hold of materials such as MEP equipment, plasterboard and drylining where lead times have stretched out.
It also warned some jobs in London may be hit by labour shortages as overseas workers, who left before the crisis escalated, become unwilling to return to the UK and face a 14 day quarantine if they decide to do so. "This could lead to pinch points and shortages, resulting in substantial price shocks," the report added.
But it said sectors such as pharma and health, logistics centres, warehouses and data centres would hold up in the wake of the crisis. "However, these make up a relatively small proportion of the industry and won't cover the losses from elsewhere," it added.