Fall the biggest since records began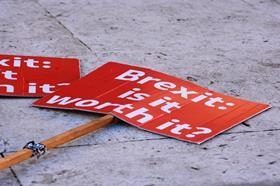 Public sector construction work experienced its largest quarterly decline in the two decades since ONS output records began.
The amount of public sector work, excluding housing, fell by 10.9% in the second quarter of 2019.
Overall output fell by 1.3% in the three months to the end of June largely reversing the 1.4% increase in the first quarter.
Mark Robinson, Scape Group chief executive, said: "Local authorities [are] both reluctant and unable to push forward with delivering new offices, schools, hospitals, surgeries and shops.
"The stark reality is both the public and private sector are continuing to err on the side of caution and new work has flatlined."
Robinson said ongoing political instability driven by how the UK will leave the EU at the end of October was to blame for the slump.
He said: "The possibility of a vote of no confidence being tabled when parliament returns in September continues to increase, with there being a very real chance that we will crash out of the European Union in October while an election campaign is underway.
"This scenario is completely uncharted territory but one thing is certain: our economy continues to be affected by infighting in Westminster, our competitiveness on the world stage is being damaged each month and the appeal of UK plc is falling."
Jonathan White, UK head of infrastructure, building and construction at KPMG, also blamed Brexit for a "torrid" second quarter.
He said: "With the threat of a no-deal Brexit rising, few bets are being placed on how the rest of the year will pan out.
"While output levels tend to remain stronger in spring and summer months, contractors' pipelines could be hit by clients sitting on their hands as we approach D-day and they wait to see how the world looks after the government's self-imposed Halloween deadline."
Output decreased by 0.7% in June compared to the previous month due to a 2% decline in repair and maintenance along with flat growth in new work.
Rebecca Larkin, senior economist at the Construction Products Association, said: "The sharpest decline in construction activity was the 0.7% monthly fall in June, as a result of unseasonably bad weather delaying work on-site, particularly in the repair, maintenance and improvement sectors, which account for around one-third of overall output."